Front End Development Services
The Indeema Software front-end development company is a reliable software partner with cutting-edge development expertise. We offer professional services, provide you with innovative solutions, and meet your expectations.
We Offer
Front-End Development Services We Offer
Our front-end development agency aims to build solutions that provide a positive user experience and help grow your business. With the front-end web development services provided by Indeema Software, you are able to reach business goals and leverage all the benefits of advanced mobile and web applications, cross-platform and cross-browser websites, and responsive solutions in general.
RESPONSIVE AND ADAPTIVE DESIGN
Considering the fact that more and more people prefer to have quick access to all products and services, we make sure the design we create fits all types of devices on different operating systems. Moreover, we allow for different screen sizes.
ANGULAR AND REACT.JS DEVELOPMENT
Get ahead among competitors with the front-end development services on the basis of the most commonly used frameworks by developers. Angular and React.JS boost your product's functionality, features variety, security, and scalability. Indeema Sofware professionals develop sophisticated software with user-friendly functionality.
CROSS-BROWSER DEVELOPMENT
Our experience in front-end web development services enables us to create web solutions for our clients that work the same and smoothly on all types of desktop and mobile browsers.
Front-End Development Expertise
Our front-end development team delivers top-notch front-end development services as we are highly qualified and experienced. The expertise in front-end technologies and tools is extremely important to creating advanced and competitive products.
When working with Indeema Software, you can be sure that you have partnered with the right company to achieve all your goals. What is our front-end development expertise?
We can create optimized builds for the browser that suit all types of mobile phones and PCs well.
Taking into account the fact that people use various devices, we ensure that your website looks great across all devices.
Qualified in adapting payments systems
A lot of products require implementing payment systems. It is what we are experienced in. Our developers and engineers select and adapt a payment system that best fits our company goals and needs.

Tend to create a lot of charts to show statistics for IoT devices
In front-end development, we consider IoT devices as well. Moreover, dashboards and charts reflect the whole picture of the app's performance, which simplifies analysis and planning for your company.
Our team is capable of handling multiple roles for web app
Considering different roles and purposes, we create and follow permissions in the web app to manage all the processes and options more efficiently.
Why Us
Why Should You Choose Indeema Software For Front-End Web Development?
Our front-end development services company is the right choice for you as we use only the most reliable and state-of-the-art front-end technologies, like React (developed by Facebook) and Angular (developed by Google). Our specialists do their magic and provide you with a first-class digital solution that fits your wishes, requirements, and goals as well as is scalable, functional, and adaptive.
SOME REASONS TO WORK WITH US:
Custom front-end development
The professional and dedicated team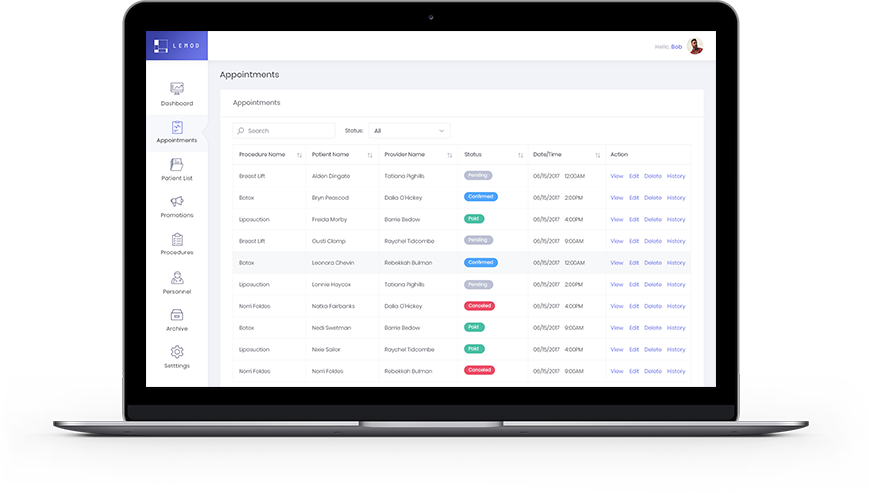 Lemod
To find out more about the front-end web developer services provided by Indeema Software, we suggest you to get acquainted with our projects. These are just a few examples of our customers' success stories. In all cases we follow the main principle - build a product that you have always wanted to have, putting your ideas into practice, satisfying your target audience, and generating more leads.
Industry: Healthcare
Service: Web Development, UI/UX Design, Post production support
Lifetime: 2018 - Maintenance
Client's Location: USA
FAQ
First of all, we are eager to dive into the details and specifics of your project. We make sure that we share the vision of your project, conduct the initial research and study all the requirements and documentation. We can begin once we have a clear picture of the scope of future work and client's needs.
The choice of tech stack for your front-end project depends on many factors. First of all, it is the "destination," meaning your final goals and scalability opportunities. Every technology serves that or another purpose. During the discovery phase, we define all the project's specifics and choose the best tech stack option for your project precisely. That is how we provide our customers with custom services.
The main benefit of front-end development is increasing conversion rates. An optimized and polished website or application is proof of a positive user experience. Moreover, front-end services lead to higher traffic and more leads. We tend to create user-friendly, easy-to-navigate, and functional solutions. Front-end makes sure your customers get what they are looking for.