iOS Mobile Application Development Service
Discover the massive potential of iOS apps for your business with professional iOS app development services by Indeema. Our iOS development team has years of experience creating custom applications for all Apple devices. We'll help you build an engaging and user-friendly solution regardless of the industry and your project complexity.
iOS App Development Services
IOS APP DEVELOPMENT CONSULTING

---

You can turn to our iOS mobile app development company to help you determine whether iOS is the right fit for your future app, and, if so, which technology stack can best meet your project needs and requirements.

SOLUTION IDEATION

---

Our professional iOS mobile app development services include solution ideation — the process of identifying your target audience, their pain points, and ways to solve them.

MOBILE UX /UI DESIGN

---

We inject iOS solutions of any complexity with smooth and convenient designs, combining desired features with what users expect from the Apple ecosystem.

IOS APP DEVELOPMENT FOR IOT

---

With broad experience developing IoT apps for various platforms, the team at Indeema provides custom iOS app development for IoT to help your iOS users fully delight in the convenience of smart solutions.
IOS MOBILE APP DEVELOPMENT

---

Our iOS app developers take pride in their extensive experience creating robust solutions for iPhone, iPad, and Apple Watch.

MOBILE APP TESTING

---

The team at our iOS app development company gives a special focus to security and performance, making usa reliable partner for iOS app testing. We leverage various manual and automated tools to make sure your iPhone app is bug-free and hack-proof.

MAINTENANCE AND SUPPORT

---

Our iOS application development services don't end once your application has been launched. iOS developers at Indeema provide high-grade maintenance and support services to ensure that your app is always up and running and compatible with the latest iOS version.
Company
Why Indeema Software

01.
UNPARALLELED IOS PLATFORM EXPERTISE
iOS software developers at Indeema possess in-depth expertise in building engaging and robust iOS apps for a variety of industries.
02.
CLIENT-CENTERED APPROACH
In the iOS app development process, we place the principal focus on our clients' unique business needs and objectives.
03.
COMPREHENSIVE IOS MOBILE APPLICATION DEVELOPMENT
The team at our iOS mobile application development company provides end-to-end iOS application development, from consulting and planning to delivery and maintenance.
04.
CLEAR COMMUNICATION
We follow the practice of keeping our clients in the loop about everything that is going on with the project by providing detailed reports and being readily available to answer any questions.
Key Benefits of Custom IOS App Development
EXCEPTIONAL SECURITY

iOS users are securely protected against hacking and malware, making iOS your best choice if your app is supposed to contain sensitive enterprise data.

SCALABILITY

Scalability is imperative if you want your app to grow as your business grows. iOS solutions are renowned for their exceptional scalability and high performance.

HIGHER REVENUE

iPhone apps are more lucrative for businesses since they offer assured market reach and better-paying customers.

LOYAL CUSTOMER BASE

Before becoming available in the App Store, each app has to pass Apple's high-quality standards, meaning users who download iOS apps are sure of the flawless performance and rewarding experience. This trust has helped to create a large and loyal consumer base for iOS apps.

SHORTER TESTING TIME

Since there are fewer iOS devices than Android-based ones, testing iOS apps takes less time and guarantees a quicker time to market.
FIND OUT HOW OUR IOS DEVELOPMENT SERVICES CAN MAKE A DIFFERENCE TO YOUR BUSINESS.
Let's get in touch and see how we can assist you.
LET'S TALK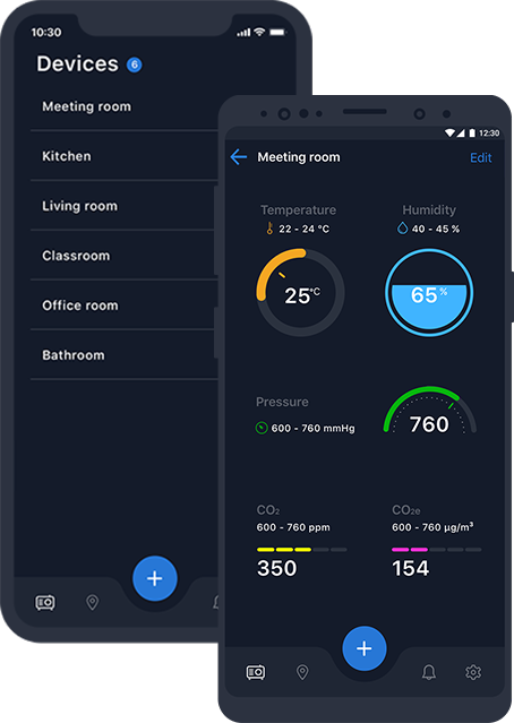 Mobile IoT solution for Tracking Indoor Air Quality
Air quality monitoring solution for both private and business use. The system utilizes IoT to track the quality of our every breath. It consists of the UBox device, cloud platform, and the UBreez application. The solution measures temperature, humidity, pressure, CO2, and VOC indoors to keep them at optimal for health and productivity level. Forhealth estimates the savings and productivity gains from improved indoor at 25 to 150 billion USD per year.
Industry:

High-Tech,

Smart Home,

Consumer

Service:

IoT Consulting Services,

Tech Advisory,

R&D Services,

MVP Development,

IoT Development,

UI/UX Design,

...

Lifetime:

2018 - 2021

Client's Location:

USA
Learn more
FAQ
iOS app development is the process of building software for Apple devices: iPhone, iPad, Mac, Apple TV, and Apple Watch.
Just like any digital solution development, the iOS development process starts with planning. Then designers focus on designing the app, followed by its development and testing before it goes live. Once the app is ready to use in the market, developers focus on subsequent continuous maintenance as long as it exists.
The main difference between Android and iPhone app development is the programming language. Android apps are chiefly written in Java or Kotlin, while iOS apps are mostly built with Swift. Development with Swift calls for less code allowing iOS app projects to complete faster.
Both platforms have their pros and cons for businesses, and the answer to this question will largely depend on your budget, business needs, and audience. At Indeema, we provide both Android and iPhone app development services, so feel free to contact us if you need a consultation.
We ensure complete transparency and work closely with our clients throughout the entire project lifecycle.
Our iOS mobile application development service includes publishing your app on App Store.
Our iPhone application developers can create apps that run on iPhones, iPads, Macs, Apple TVs, and Apple Watches.
It's impossible to give a single answer to this question since several factors affect the final price, the list of features being the most significant. If you plan to build an iOS application, get in touch with our iPhone mobile application development company and give us more details about your project to get an approximate cost estimation.