Android Mobile App Development Services
Discover custom Android app development by Indeema to build high-performance, easy-to-use Android apps. We provide professional Android application development services to help our clients grow.
Android App Development Services
ANDROID APP DEVELOPMENT CONSULTING

---

The team at our Android app development company can help you adjust your Android app idea to the expectations of the Android-specific user base. We provide professional assistance with selecting the best Android platform and designing a roadmap for your Android app development.

SOLUTION IDEATION

---

We'll help you identify your future app's mission, target audience, customer pain points it will tackle, and its unique value proposition to make sure your application will meet the current market needs.

MOBILE UX /UI DESIGN

---

Experts at our Android mobile app development company have broad experience in Android application design that allows them to create convenient user interfaces and rewarding user experiences.

ANDROID APP DEVELOPMENT FOR IOT

---

The team at our Android mobile application development company has established expertise in creating high-quality x`IoT applications for Android to let users interact with multiple devices through the IoT interface.
ANDROID MOBILE APP DEVELOPMENT

---

Our expert Android app developers take pride in building high-performance, scalable Android solutions for a variety of industries that seamlessly run on all types of Android devices.

MOBILE APP TESTING

---

We help our clients test their apps to ensure they meet all the requirements, including functionality, performance, compatibility, usability, and security.

MAINTENANCE AND SUPPORT

---

Our Android development services include ongoing maintenance and support to ensure your Android app stays relevant. Our team will provide timely updates, fix bugs, add new features, improve code quality, and perform regular security checks.
LEVERAGE OUR PROFESSIONAL SERVICES TO ACCESS THE IMMENSE ANDROID USER BASE.
LET'S TALK
Company
Why Indeema Software

RELEVANT EXPERIENCE

Our Android application developers have extensive experience in creating robust Android apps for a variety of industries, including healthcare, travel and hospitality, retail, media, education, and fintech.

THE RIGHT FOCUS

In the process of Android mobile application development, we primarily focus on your business goals and your user needs, finding the perfect balance between them to build Android apps that are sure to create value.

END-TO-END ANDROID DEVELOPMENT

You can entrust us with building your Android app from scratch. We provide professional consulting, product strategy, UX/UI design, application development, testing, delivery, and maintenance services.

TRANSPARENT PROCESSES

We strive to become one of the leading Android development companies and do our best to provide our clients with excellent quality being fully transparent about every detail concerning their projects.
Key Benefits of Android App Development
COMPATIBILITY WITH DIFFERENT DEVICES

It's safe to say that Android application development has no limits. You can build a tablet, phone, or desktop application that can easily work with Ubuntu, Symbian, or Blackberry.

SUBSTANTIAL MARKET SHARE

Over 80% of mobile devices globally use Android, meaning you can access a greater customer base.

GOOGLE PLAY STORE

Apps deployed to Google Play Store become available to users within hours (on App Store, an application takes days to be approved). What is more, Google Play allows Android developers to push app updates within 20 minutes to a few hours.

EASY TO CUSTOMIZE

Android is open-source and provides Android app developers with maximum room for customization, allowing them to easily adjust the app to changing business requirements.

HIGH ROI

Android's more extensive user base means that a relatively low investment meets increased engagement among users, which inevitably translates into a higher ROI.

FASTER TIME TO MARKET

Android apps are characterized by a rapid development cycle, which offers a decisive competitive edge to businesses focusing on a quicker time to market.
LET'S BRING YOUR EXCITING ANDROID APP IDEA TO LIFE.
Let's discuss your idea.
CONTACT US
Our Android App Development Process
1. RESEARCH
2. ANALYSIS & PLANNING
3. UI/UX DESIGN
4. APP DEVELOPMENT
5. TESTING
6. DEPLOYMENT & SUPPORT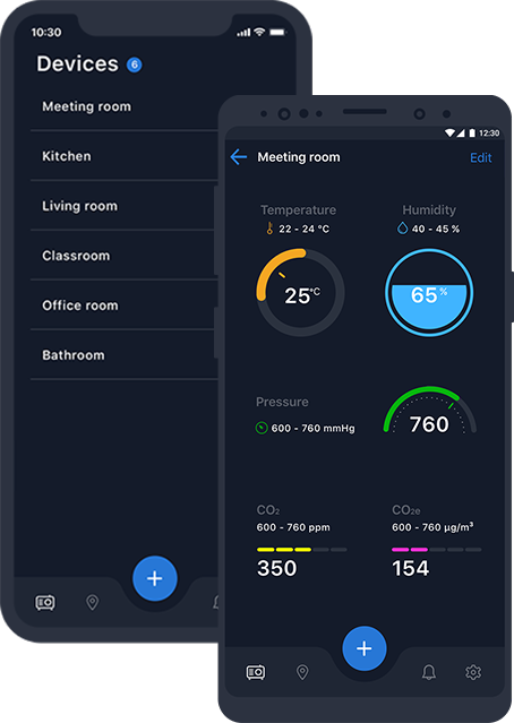 Mobile IoT solution for Tracking Indoor Air Quality
Air quality monitoring solution for both private and business use. The system utilizes IoT to track the quality of our every breath. It consists of the UBox device, cloud platform, and the UBreez application. The solution measures temperature, humidity, pressure, CO2, and VOC indoors to keep them at optimal for health and productivity level. Forhealth estimates the savings and productivity gains from improved indoor at 25 to 150 billion USD per year.
Industry:

High-Tech,

Smart Home,

Consumer

Service:

IoT Consulting Services,

Tech Advisory,

R&D Services,

MVP Development,

IoT Development,

UI/UX Design,

...

Lifetime:

2018 - 2021

Client's Location:

USA
Learn more
FAQ
Yes. Like most other Android app development companies, we always sign an NDA.
The Android app development team at Indeema can assist you with adding new features or making modifications to your Android application.
Many companies use Android mobile app development services since Android apps provide them with a huge customer base. In addition, Android apps are easy to customize and offer a faster time to market.
Android applications allow businesses to access a whopping 80% of mobile users and thus obtain high user engagement. In addition, an app will provide you with an efficient way to collect, analyze and effectively use customer data.
Custom Android apps are tailored for a specific set of users and feature unique functions to effectively meet specific business needs and requirements.